One of the main premises is to respect, as much as possible, the environment. It is an obligation to preserve our planet that has been transferred to all sectors. Yes, also to the construction industry.
In this sense, construction is a really complex sector in order to carry out a work, optimizing natural resources and minimizing the environmental impact. To achieve this, it is necessary to rely on sustainable architecture. Precisely, in this article we want to focus on this concept and its characteristics.
What is Sustainable Architecture?
Sustainable architecture can be defined as that which focuses on the life cycle of the building to be constructed, starting from the construction of the building itself, to its use and even its demolition. It therefore concentrates on different techniques that help minimize the negative impact of the building construction itself.
Sustainable architecture is a trend that has been with us for 20 years and in which the aforementioned environmental awareness is combined with the use of sustainable materials andnew building technologies. All this always thinking in the best comfort and with the best finishes.
A good example of sustainable architecture and incredible design is our project The Edge, take a look at it!
Characteristics of sustainable architecture
Now, how is it achieved? Sustainable architecture is based on different keys and characteristics.
Orientation and Lighting
The location and orientation of the building can play a key role in achieving a more sustainable building. The objective is to reduce energy consumption thanks to the entry of natural light.
In the case of our country, the best orientation is south, since the sun shines all day long in winter, spring and autumn, while in summer it is only in the middle of the day. It should not be forgotten that the advantage is not only environmental. This results in a brighter and more pleasant home.
Raw Materials and Transportation
Passive architecture takes into account the materials with which it is built. This is logical, since the contamination that can occur in construction depends mainly on the materials. For a material to be considered sustainable, its manufacturing and transportation costs must be kept to a minimum.
Therefore, recycled material is one of the best options, while those that are close to avoid over-consumption in transportation also fall within this concept.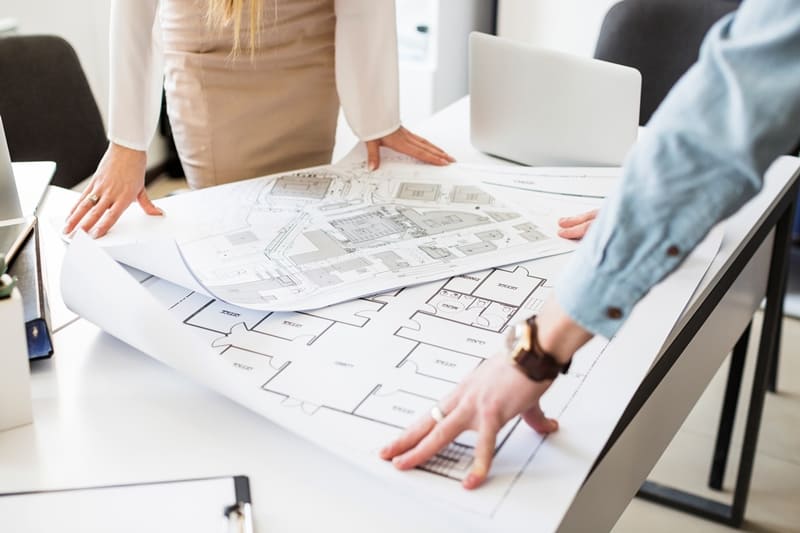 Dry Construction and Industrialization
There are new constructive solutions very useful for reducing waste in the process and reducing manufacturing costs. In this sense, the sector has changed enormously thanks to pre-construction, where various elements are built in the factory itself, in a much more controlled manner and avoiding weather delays.
Dry construction, where structures are previously elaborated with gypsum boards, wood, metal or glass panels, allows greater traceability throughout the process. Virtually no water is required in construction, while the carbon footprint can be reduced by about 50%.
Thermal and Acoustic Insulation
Another key factor in making a house or building as efficient as possible is its insulation, both thermal and acoustic. Best of all, through different design techniques and the use of certain materials, by improving the insulation of one of them, you will also improve the insulation of the other, and vice versa.
For example, if the main concern is focused on the elimination of thermal bridges, not only do you improve thermal insulation, you also get less noise. Likewise, when using windows with good acoustic insulation, the attenuating effect on thermal insulation is remarkable.
Use of Renewable Energies
When it comes to generating energy for the building's own consumption, sustainable architecture also offers different solutions for energy consumption and air conditioning. In this sense, there are two clean energy sources that are contemplated to offer the best welfare, such as energy from solar panels and biomass.
These two options are perfect for such fundamental aspects of a home as domestic hot water or home air conditioning. Best of all, not only are CO2 emissions reduced, your bill will be lower!
You will have already seen that sustainable architecture not only seeks to respect the environment during construction and use of homes or buildings for other uses. Thanks to these techniques, it also offers the best wellness to enjoy within its 4 walls.