If we talk about the province of Castellón, surely all those idyllic places on the coast that this province has come to mind, but you do not stop to think about all the places and heritage that can be found in the interior of this province.
Well, although Castellón is the least touristic province of the Valencian Community, it is full of heritage, charm and unforgettable landscapes.
That is why we recommend you to visit the most beautiful and charming villages of Castellón. If you don't know what they are, don't stop reading, because below we will give you a tour of each one of them.
List of some of the charming villages of Castellón
As we have mentioned before, Castellón is full of secrets, incredible landscapes and towns with great charm and historical heritage. Among all of them we can highlight the following:
Morella
If we talk about charming villages in Castellón, undoubtedly the first one we have to stop at is Morella, a town included among the most beautiful villages in Spain. This town impresses anyone who visits it already from afar, due to its swirling houses, surrounded by a great wall and located around a hill that is crowned by a spectacular medieval castle in ruins.
But its charm does not disappear when you enter the heart of Morella, on the contrary, its steep streets, its medieval houses and its rich historical and artistic heritage make you take a trip back in time to a very distant era. Among the places you should visit in Morella, in addition to its spectacular medieval old town, is the Governor's Palace which was declared a Historic-Artistic Monument in 1931, the Church of Santa Maria, its walls and especially its Castle, from where you will have spectacular views.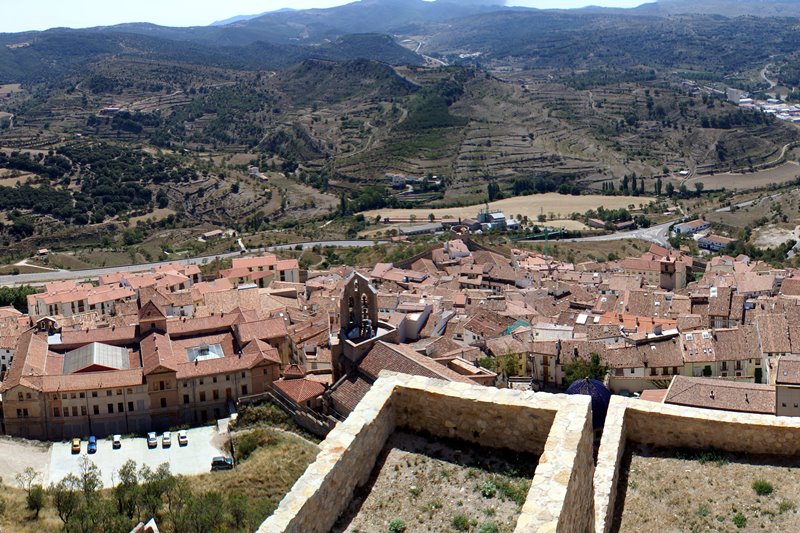 Peñiscola
Another of the most beautiful and charming villages of Castellón, which is also included in the Association of the Most Beautiful Villages of Spain, is Peñíscola.
Surely you are familiar with its name, as it is one of the most frequented towns by tourists in summer thanks to its beach and its heritage. Its popularity is not fortuitous and its old town is unique and special. It is located on a rocky peninsula connected to the land by a sandy isthmus, crowned by an incredible castle and surrounded by walls.
We advise you to enter and get lost in its narrow and steep streets surrounded by the typical white houses. In addition, you can not miss the Templar Castle of Papa Luna, the Casa de las Conchas, the lighthouse of Peñiscola, the Church of Santa Maria, the artillery park or the Ermita de la Virgen de la Ermita.
The charm of Peñiscola is such that it has been the setting for several films and series such as Game of Thrones.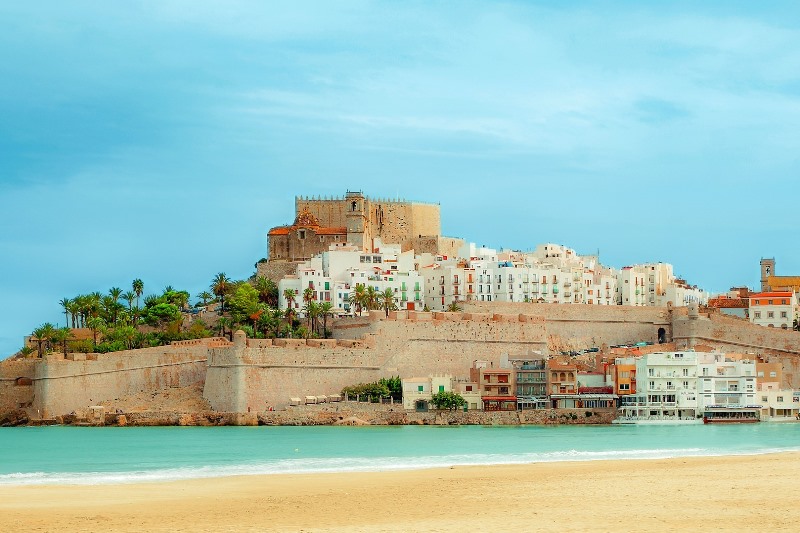 Mascarell
Mascarell is a unique and singular village, as this is the only village in the province of Castellón that is completely walled. Its wall, which has protected the town for centuries, is not medieval, but of Arab style and rectangular in shape.
This wall was built by the Muslims expelled from Burriana at the beginning of the 14th century, by Jaime I.
Another peculiarity of Mascarell is that it was depopulated with the total expulsion of the Muslims, until it was repopulated again in the 18th century.
In addition to this singularity, Mascarell was declared an Asset of Cultural Interest thanks to the unique agricultural environment that surrounds it.
We recommend that you take a walk through its streets and visit its beautiful town hall or the Parish Church.
Alcossebre
Alcossebre is a town located in the municipality of Alcalá de Xivert, in the province of Castellón, on the Costa Azahar. It is located next to the Natural Park of the Sierra d'Irta, one of the few protected natural areas of the Levantine coast. It is also about 50 kilometers north of Castellón de la Plana and halfway between Peñíscola and Oropesa, two of the most popular tourist destinations.
If you are looking for homes in Castellón to enjoy the good weather, take a look at these new developments in Castellón.
In its ten kilometers of coastline, you can find beaches of fine sand and pebbles, coves, dunes and crystal clear water with a perfect temperature for swimming in summer.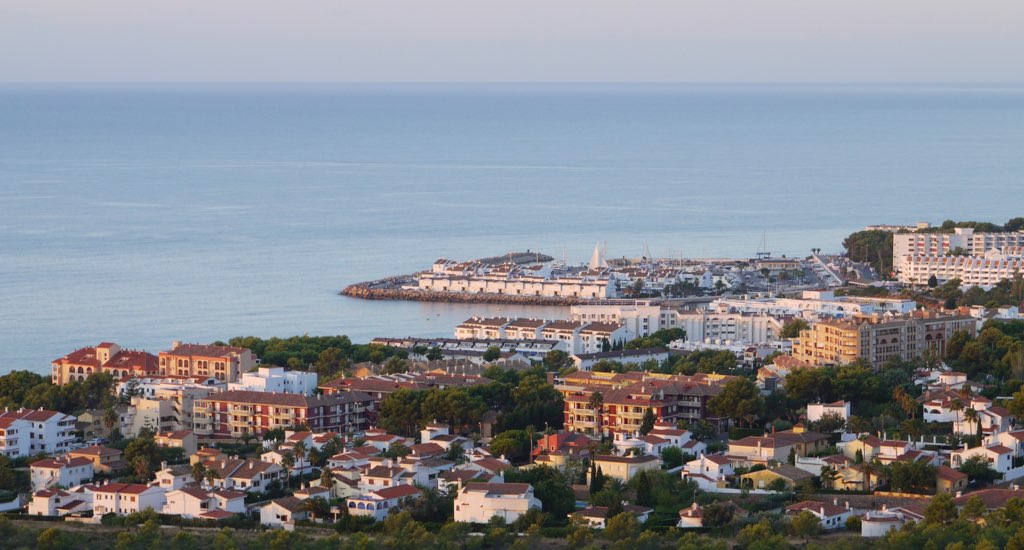 Culla
For those of us who love medieval villages, one of the most beautiful villages in Castellón, Culla, cannot be overlooked.
This town, declared a Historic-Artistic Site and member of the Association of the Most Beautiful Villages of Spain, has a beautiful old town with many well-preserved historic buildings and a castle that was destroyed during the Carlist Wars.
Undoubtedly, strolling through its streets takes you back to another distant era. We recommend visiting buildings of great interest such as the Parish Church of El Salvador, the Hermitage of San Roque or the Matella Tower.
But Culla not only offers heritage, but it is also surrounded by beautiful and incredible rugged landscapes that make its attractiveness increases giving it a picturesque aura.
Villahermosa del río
Villahermosa del río is a small town that exudes great charm and is located on the border between Castellón and Teruel.
Its main feature is its location and its beautiful scenery, as it is located on the slopes of a hill surrounded by nature decorated with a multitude of white houses. certainly an impressive image!
Among the places of interest in Villahermosa, we can highlight its castle located on a meander, the church of Nuestra Señora de la Natividad and its incredible old town of Arab origin.
For nature lovers, Villahermosa del río is very close to the Peyagolosa Natural Park and the Carbo River Waterfall, so you can also enjoy a nice excursion in nature.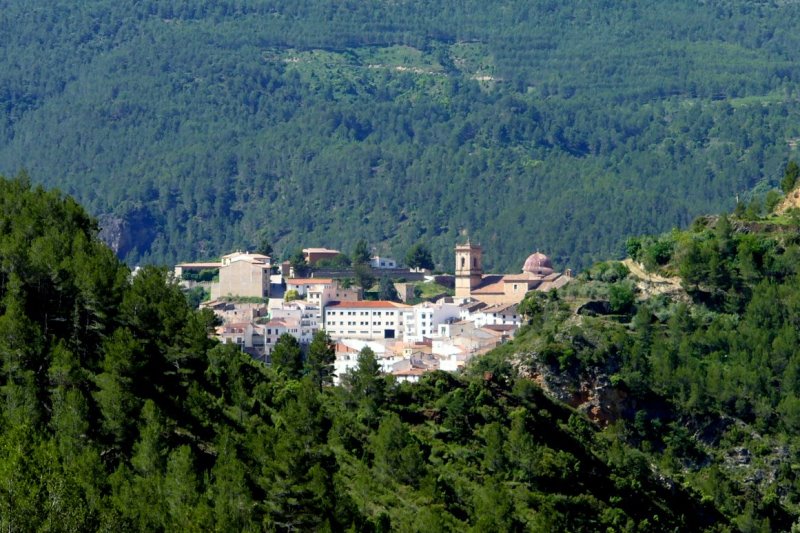 Villafranca del Cid
Finally, another of the most beautiful villages of Castellón is Villafranca de Cid. This town is a clear example of the medieval heritage that can be found in the Alto Maestrazgo region.
Villafranca del Cid has a unique rural aspect thanks to being surrounded by terraces and fortified farmhouses, declared of Cultural Interest.
Among its places of interest we have to highlight its Gothic town hall, the Old Hospital, or the parish church of Santa Magdalena. In addition, it is in the middle of the Camino del Cid, something that attracts many people to the town.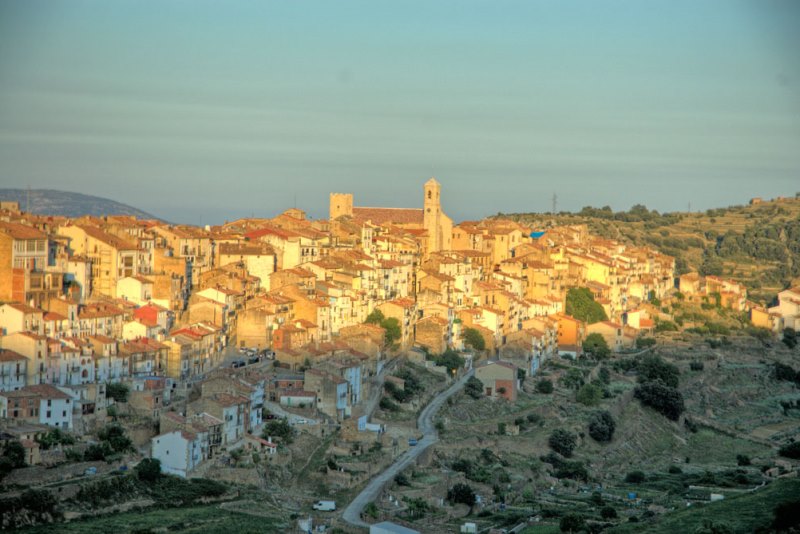 These are some of the charming villages that you can find in Castellón. What did you think?